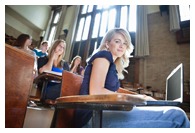 While meeting assessment requirements for ethics and critical thinking, students learn a repeatable decision model to guide their everyday lives.
Our Ethics Exercises™ introduce and reinforce both compliance and ethical concepts through rapid-fire, multiple choice questions.
The Hot Topics Simulations™ are short and engaging virtual simulations that challenge students to make decisions from multiple ethical perspectives.
Our Core Values™ product is a team based, writing intensive simulation series used in Business Courses such as Business Law, Strategic Management and Business Ethics. Students are given executive positions within a company and work on-line together and separately facing typical workplace ethical challenges.
All of our offerings and pricing are customized to fit into any existing program or curriculum.
Find out How it Works!