Self-Insight: Roadblocks and Detours on the Path to Knowing Thyself
By David Dunning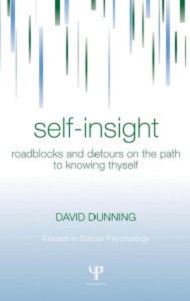 The quest for self-knowledge is perhaps the most important task of a human, yet it is also the most daunting. While accurate self-assessment is critical for mastering skills and choosing careers, David Dunning reminds us that telling the truth to ourselves, as well as getting accurate feedback from others, is nigh impossible.
Self-Insight is an intriguing, accessible distillation of an amazing array of studies, each chronicling different forms of self-deception. Fortunately, Dunning also gives us hope as he provides strategies for overcoming the roadblocks and detours on our path to self-knowledge.
Dunning organizes his research into eight distinct types of self-deception, from blissful ignorance, where we don't know that we have skill deficits, to the more consequential illusions concerning our moral fiber and proclivity toward being ethical. In all situations, he shows how neither self-observation nor feedback from others can guarantee that we will have accurate information upon which to base our decisions.
One source of knowledge about ourselves comes from self-assessment. While we may be forgiven for not knowing what we don't know, Dunning shows how even when we use well-honed reasoning skills, we still make errors of judgment. Sometimes we have incomplete information. Even more troubling is that we have all have faulty processes for analyzing data: the shortcuts our brains take sometimes lead us to the wrong destination.
And then we have the problem of confirmatory bias—the ability we all have for coming up with sound reasons for our favorite positions. Critical thinking classes teach us to evaluate the evidence on both sides of an argument and argue both sides of a controversy. Unfortunately, we often forget to explore both sides of our closely held positions, and thus we have more confidence in our opinion than is justified.
Additionally, getting critical feedback from experience or others may not be any more useful than paying attention to our self. Dunning presents a checklist of research showing how we get everything from incomplete feedback to ambiguous feedback, neither of which is useful. He ends with how all of us receive biased feedback, where people have not been completely truthful with us when sharing negative information. And, as anyone who has ever had to give a less than glowing evaluation knows, we all tend to sugar-coat the truth so people don't feel bad about themselves.
Dunning then provides a handful of antidotes to self-deception. First is humility, recognizing that we are prone to errors in judgment. This gentleness can help us learn to listen compassionately to each other as we monitor ourselves for self-deception. Another opportunity for correction comes from looking at generalized data about humans: none of us are probably special enough to be consistently in the 90th percentile of anything. And finally, we can ask those we trust for honest feedback and be patient enough to listen and reflect on what we hear.
But, we need not despair. Dunning ends his book with an observation that sometimes self-deception is useful. With mildly optimistic assessments of our skills, we may try harder at our chosen task and in fact improve. With a mildly optimistic assessment of our interpersonal traits, we may work more diligently at getting along with others and being good citizens. And, optimistic people are less inclined to depression. Moderation is key.
Dunning asserts that for overestimation to be an effective antidote to depression or under-achievement, the self-inflation should happen at the margins of our abilities and not much more. While a nod is given to beneficial self-deception, Dunning ends where he began: reminding us that excessive arrogance and self-confidence is the core of hubris, an often fatal character flaw.
A Good Read!
Self-Insight: Roadblocks and detours on the path to knowing thyself
By David Dunning
Psychology Press: New York, NY (2012)
---
The World Beyond Your Head: On Becoming an Individual in an Age of Distraction
By Matthew B. Crawford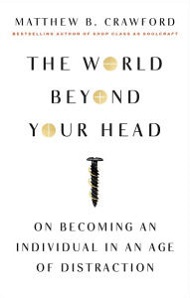 Day by day and moment by moment, you're being robbed of a precious resource. Not your money or your possessions—the theft is subtler and more pernicious, often on a scale smaller than you can perceive. What you're losing, claims Matthew B. Crawford in World Beyond Your Head , is your attention.
Crawford asserts that just as modern fast food is engineered and calibrated with the exact proportions of sugar, fat, and salt to be "hyperpalatable," so too are the stimuli of the world around you. The blank spaces of the world are becoming filled with advertisements, and the quiet moments of life, which may once have offered a space to contemplate and discuss, are drowned in visual and auditory noise.
The goal is to get you to buy, to consume, or to watch, but the worst consequences are the losses of sociability and interaction. With deft arguments and clear reasoning, Crawford explores how the loss of community leads to the stagnation of rational thought and, in turn, the slow decline of well-formed ethics.
Consider the ideal, rational mind as considered by ethicists like Kant. It sits apart from all worldly concerns, floating in a void of pure reason and thought. Emotion and connection to others can't distract this pure mind from making the best possible decisions. Is that an ideal to aspire to, when making ethical decisions? Crawford's answer is a resounding no.
At first, the two points might seem at odds. If the world is so full of engineered distractions, isn't it better to remove ourselves from it so our thoughts can be clear and unimpeded? Indeed, that complete withdrawal might be the instinctive reaction, but recoiling from our community does more harm than good. In isolation and autonomy, Crawford argues, we're terrible at decision-making.
The core problem is that our notion of autonomy, freedom of choice, is choice that's removed from the empirical world. Crawford uses the example of riding a motorcycle, comparing reading a number off a speedometer with actually feeling the speed. The former is an abstraction, a symbol. The latter is real—and it also relies upon connection to the real world. "The fantasy of autonomy," he states, "comes at the price of impotence."
The importance of others in living individual, authentic lives is inescapable. Others have come before us, giving names and meanings to our world, teaching us rules and skills. Others live with us, evaluating our actions—and only in their evaluation of us do our actions have meaning. Self-knowledge isn't achieved in isolation; it's achieved in communication, where we see what version of ourselves the world reflects back at us.
If our head is turned away, we fail to see that all too important mirror image. To think clearly, you must be able to choose what you pay attention to. The World Beyond Your Head is a book worthy of that attention.
A Good Read!
The World Beyond Your Head: On Becoming an Individual in an Age of Distraction
By Matthew B. Crawford
Farrar, Straus, and Giroux: New York, NY (2015)
---
The Roots of Goodness and Resistance to Evil
By Ervin Staub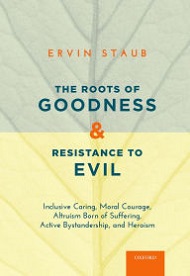 A recent New York Times article about a New Orleans's program where police are taught to intervene when they see colleagues about to do something unethical caught my eye. A deeper dive revealed that the program was grounded in the work of Ervin Staub, who has spent his entire professional life studying the roots and prevention of violence.
As a young child, Staub survived the holocaust. His early life experiences led him to a self-described "lifelong engagement with goodness and evil." This engagement led him to not only research when people intervened when faced with unethical behavior, but also to develop strategies for teaching people how to avoid passivity and become active/helping bystanders. The result of that life's work is his intriguing book, The Roots of Goodness and Resistance to Evil.
The book is a blend of previously published articles and new content designed to make the strategies for teaching moral courage accessible to ordinary readers. For those of us who teach ethics, the work is a treasure trove of information about how we as humans develop our capacity to do good and how we can lose our moral courage when circumstances shift and we are faced with evil.
Staub skillfully weaves together stories of those who have stood up in the face of evil, his own research exploring the causes of non-intervention, and then strategies for both personal ethical growth and shaping the ethical sensibilities of the community. This blend provides much needed insight for those of us who work to find new ways to engage our learners in the conversation about personal and organizational ethics.
The most fascinating segment of his work relates to teaching ourselves and others to become good bystanders as we respond to the needs of those around us. He begins by reminding us to pay attention to our surroundings and realize that we all have a choice in how much we'll respond to the circumstances around us. He then he invites us to act appropriately even when we may not be sure about what is going on. Staub's research found that when people were not sure about the source or extent of someone's distress they were reluctant to intervene because they didn't want to be embarrassed by taking "unnecessary or wrong" action.
Staub faces head-on the problem of being overwhelmed because we don't think we can make a difference and what others have called compassion fatigue—seeing so much need that we don't know how to respond. He talks about the power of working with others to help alleviate suffering. He also tells stories of small acts of kindness that made profound differences in individual lives. Those stories remind us that seemingly small acts of goodness in our own organizations and communities can make a profound difference.
Finally, Staub masterfully looks at the relationship of individual action and organizational culture. Staub is clear that the health of the institutions in a community profoundly affect how effectively individuals can respond to emerging evil. Thus, he presents a vision for both individual intervention as well as working within institutions to create strong foundations for creating caring communities and preventing violence. Whether you are looking for ways to enhance your own capacity for effective intervention or are a teacher seeking a fresh approach for your classroom, The Roots of Goodness & Resistance to Evil is a good read!
A Good Read!
The Roots of Goodness & Resistance to Evil
By Ervin Staub
New York: Oxford University Press (2015)
---
How to be Good: The Possibility of Moral Enhancement
By John Harris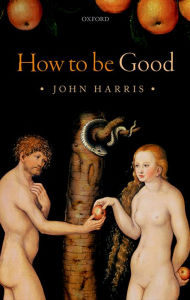 Acts of terrorism and violence are often carried out by lone wolves who give minimal warning that they are about to act on their twisted beliefs. Would you be willing to participate in a program of universal biological or chemical moral enhancement in order to ensure global—or even local—safety? If not, why not?
Now that question would liven up any classroom discussion!
John Harris invites us to consider that very question as he takes us on a very readable jaunt through current conversations about moral enhancement. Those of us who are part of the educational enterprise teach moral reasoning as a way to help people learn to be good. Harris invites us into the world of science—chemical enhancement, genetic manipulation, and artificial intelligence—to consider what other forms of moral enhancement are acceptable.
How to be Good begins by exploring the tension between behavior that is informed by reason and behavior that is guided by feelings. Spoiler alert: Harris doesn't believe our emotions are effective guides for ethical behavior. Because Harris is committed to preserving personal freedom above personal or community safety—a freedom that allows one to be both ethical and unethical with actions tested by reason—he doesn't consider enhancements that change one's emotions in order to nudge one toward pro-social behavior provide true ethical accountability.
While Harris doesn't dismiss either emotional or cognitive moral enhancements out of hand, his constant drumbeat is that the essential freedom of the human person to act according to their own lights must be preserved at all costs. For this venture, he envisions the role of moral education as teaching how to "subject emotional reactions to the scrutiny of reason."
Harris also discusses the limits of individual moral action. He asserts that rather than develop a program to genetically or chemically alter the future behavior of humans, we should look at what causes people to live amicably with each other. He finds that the best approach to civilized behavior is making sure that the community provides the basic needs of food, shelter, safety, and education for its citizens. Presented against the backdrop of the ethics of social contract, Harris convincingly makes the case that trying to solve big problems by making individuals good instead of focusing on community ethics is a fool's errand.
The endgame is to help people think ethically rather than externally manipulating them to be good people through chemical or other biologic interventions. Harris believes that our joint project is to teach ourselves and others how to make moral judgements that meet minimum standards of evidence, are free from personal bias or emotional response, and can be explained in a way that others find persuasive. With this cognitive moral enhancement, people will be able to make good ethical decisions, "all things considered."
John Harris passionately invites all of us to enhance our capacity for moral reasoning. Harris reminds us that "Ethics is for Bad Guys"—and that would be all of us who have ever experienced moral failure. For Harris, the goal of moral enhancement is "to use moral reasoning to act as a guide to our emotions and as a way of checking that we are having appropriate feelings in appropriate circumstances and for appropriate objects." For those of us who teach ethics—and are engaged in the project of moral enhancement—the learning outcomes have never been more clear. And, in a rapidly-changing and very complex world, the need has never been greater.
A Good Read!
How to be Good: The Possibility of Moral Enhancement
By John Harris
New York: Oxford University Press (2016)
---
Friend & Foe: When to Cooperate, When to Compete, and How to Succeed at Both
By Adam Galinsky and Maurice Schweitzer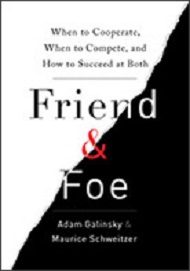 Ethics is often taught as striving to be the best person possible—a principled person pursuing unselfish goals. The emphasis on character addresses half of the ethical equation: how to be trustworthy. The other half of the equation, the half left unanswered, is whether or not to trust other people. Should we cooperate or should we compete?
Friend & Foe leverages the current research in social psychology to find that three factors contribute to the tension between cooperation and competition. The first is that we live in a world of scarce resources. Not only do we have a relative scarcity of goods, but intangibles such as status and power also are not evenly distributed. The second factor is that we are inherently social animals, which means that the evolutionary advantages humans have are the size of our minds and our ability to remember and reason.
Finally, our world is unstable and dynamic. We cannot plan for all of the events that might disrupt our social and economic lives. A surprise from Mother Nature, such as a blizzard that unexpectedly shuts down an airport or a tragic act of violence, such as a school bombing, can change our lives in ways we cannot prepare for.
Having identified these three factors, Galinsky and Schweitzer describe a series of situations where we have to pay attention to the balance between competition and cooperation. The authors begin with descriptions of family rivalries, such as the Williams sisters who compete against each other in tennis. Learning to evaluate the contours of social comparison and determining whether we are part of the "in" or "out" group can help us fashion effective strategies for success.
Using both contemporary examples as well as decades of research, the book explores issues of power allocation, the importance of hierarchy, as well as gender differences and the power of names. With each chapter, the authors present a description of the strengths behind each form of cooperation, signals to recognize when competition might be more appropriate, and strategies to navigate between both forms of social interaction. Each chapter explores another facet of the question: can I trust you?
Trust is how we determine what strategy is appropriate. Before we can cooperate with someone we need to trust them. When communities were homogenous, we could rely on markers such as race; membership in a particular religions community; or even being born in a particular hometown where people went to school together, worked together, and knew each other's parents and siblings. When we lived in stable communities, we knew the tokens of trust, the methods by which we knew whether or not to cooperate. We also had clear methods for ostracizing those who put their own selfish needs ahead of the survival of the group.
As our social groups are becoming more fluid, our instinctual responses are less accurate and thus less useful. Part of the gift of this book is to help us discern how to be more mindful about whether or not we should trust others—or determine whether we are being trustworthy. We can then learn how to evaluate fluid situations in ever-changing groups with people that we are just meeting. And we'll be prepared to both cooperate and compete effectively.
A Good Read!
Friend & Foe: When to Cooperate, When to Compete, and How to Succeed at Both
By Adam Galinsky and Maurice Schweitzer
Crown Business: New York, NY (2015)
---
On Desire: Why We Want What We Want
By William B. Irvine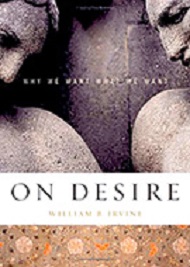 What do we want? Our cornucopia overflows with endless possibilities of things to buy, accomplishments to reach, and adventures to seek. And getting them all requires unlimited resources and time. How daunting!
Humans seemingly have an insatiable desire for more and are perpetually dissatisfied with the status quo. However, if our goal in life is to be happy, the path to contentment requires learning to moderate our desires. Wise ones teach that by embracing the virtue of temperance, we can learn not only to know what we desire but temper our desires through self-restraint. But how?
William B. Irvine's intriguing book On Desire: Why We Want What We Want helps us identify the source of our desires and clarify what we really want. He begins by showing us how to map our desires as we separate out instrumental desires—those that help us achieve our goals—and terminal desires—those that we pursue for their own sake.
This clarification process is like a project map for desires. As we follow the thread of our instrumental desires, we can eventually name our overarching goals for life. We can also determine whether a short-term instrumental desire—watching a much-hyped football game—will actually get us to our terminal desire—finishing an important project.
Irvine suggests that our emotions provide the impetus for our terminal desires: we want to feel better rather than feeling worse. Our intellect then provides us with the structure and discipline needed to wisely choose instrumental desires. The conundrum is that as come into this world "with the ability to be motivated, to seek, and even to hope," we also come into this world wanting more!
The starting point is our inherited Biological Incentive System (BIS) that prompts us to seek goals that give us pleasure rather than pain. The BIS nudges us to make choices that ensure that we'll live and reproduce: choosing good food over spoiled food, not taking undue risks with our bodies or our minds. However, this hard wiring also predisposes us to be dissatisfied with the way things are. And therein lies the crux of what Irvine calls the human condition. Can we avoid being perpetually dissatisfied through moderating our desires and learning to be content?
Three different approaches claim to help us find contentment.
The first is the religious approach: using our faith tradition to set the ideal terminal desire to being one with God or seeking Enlightenment. The path involves moderating our hedonistic instrumental desires such as rich food, luxurious living conditions, and a resume overflowing with accomplishments. Irvine notes that the religious approach focuses on life after death (reaching heaven or getting off the wheel so we don't have to reincarnate) and has as its method prayer and meditation.
The second is the philosophical approach: using reason to moderate desire and achieve contentment in this life. According to the philosophers, objectively looking at our life conditions and opportunities is the best method to help us achieve contentment. The Greek philosophers, in particular the Stoics and the Skeptics, spent a great deal of time teaching different methods of evaluating the world around us in order to moderate desires. All of the methods involved some version of learning to be content with the cards we were dealt in life. The philosophic approach has some mixed success in that we wind up questioning everything—even ourselves—and so others might consider us a bit odd.
Now, both of the above approaches lead to the third—being an eccentric. If we are a true eccentric, we do not conform to popular notions about what constitutes a good life. We ignore the advice of friends, neighbors, or the nightly news about what activities will make us happy, what stuff we should buy, and what accomplishments we should pursue. Rather, like Diogenes and Thoreau, we would seize the opportunity to define for ourselves what is required for a good life and pursue that goal.
Taking the time to examine the source of our desires and mindfully choosing the ones we wish to fulfill will get us closer to that ever elusive goal of contentment. The task is formidable as our commercial marketplace and many of our colleagues make us dissatisfied enough to buy another gadget or be more ambitious. However, Irvine suggests that as we embrace the virtue of moderation and the discipline of mindfulness, we might have a fighting chance of reaching contentment. And, we might find that our bank accounts are fatter and we have more time to swing on the porch as we watch the sun go down.
A Good Read!
On Desire: Why We Want What We Want
By William B. Irvine
Oxford University Press: New York, NY (2007)
---
Self and Soul: A Defense of Ideals
By Mark Edmundson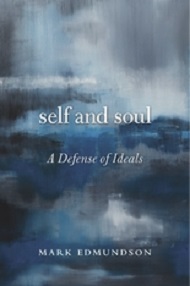 The ancient Greeks reminded us that the first step to ethical wisdom is to "Know Thyself." However, a quick look at contemporary culture shows us that if all we know is our Self, we can become trapped and miss truly living. Mark Edmundson in Self and Soul: A Defense of Ideals reminds us that striving for the Soul State—that part of us that embodies courage, seeks compassion, and quests for Truth—is required to find wisdom.
Edmundson invites us to consider three ideals—the Hero, the Saint, and the Thinker—in order to escape the shallowness of contemporary life. Edmundson asserts that we too often substitute vicarious living through social media and games for a fully engaged life. To avoid this disengagement, Edmundson recommends embracing human ideals as we seek a life of purpose and meaning.
The Hero both wants to embody personal excellence and to put that excellence and energy in service of the larger community. Edmundson laments that when "people become heroically dedicated to middle- class ends," their lives can become massively frustrating. An antidote is to put one's energy behind a goal truly worth pursuing, one that can make a difference in our own community, and transcend our Self in service of our Soul.
The Saint is one who loses Self in service of others. Drawing from a variety of traditions—the Buddha, Confucius, and Jesus—Edmundson points to a life of compassion for others that will help us transcend the "unending worship of the individual who seeks and finds triumph" in a perpetual quest for success and greed. The invitation is to consider how a life of love and service can have more meaning than a life or resentment and competition.
The final ideal is the Thinker, one who studies and reflects in order to "develop her own version of the truth." Through disciplined reflection on not only what is True but also what is Good, the thinker offers to the community the best that her mental powers have to offer. Through this work, the thinker can contribute a vision of a better life to the world as well as "dreams of understanding the present and the past."
Embracing each of the ideals explored in Self and Soul can move us past our own narrowly defined desires and projects. While all three ideals are different, Edmundson suggests that as we choose in appropriate times to walk the path of courage, compassion, or contemplation, we will "feel a joy… more than mere happiness…and intimations of a finer and higher life." Taking that journey certainly sounds more satisfying than watching yet another football game or perusing endless Facebook postings and Twitter sound bites.
A Good Read!
Self and Soul: A Defense of Ideals
By Mark Edmundson
Harvard University Press: Cambridge, MA (2015)
---
Wise Mind Living: Master Your Emotions, Transform Your Life
By Erin Olivo, Ph.D.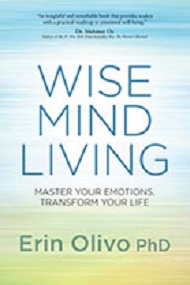 The Stoics tell us that emotions are to be controlled by rationality and detachment. Some modern therapists tell their clients to embrace their emotions and let the chips fall where they may. However, anyone who's ever been on the receiving end of an unexpected emotional outburst or unexpectedly found themselves yelling or crying—or both—know that managing emotions is more than a notion.
Erin Olivo's readable guide to emotions teaches a process called "Wise Mind Living" that promises to help us master our emotions and transform our lives. Rather than advising that we either deny or indulge our emotions, Olivo recommends mindfulness, sitting with all the various emotions to see what they might reveal about our present situation.
While Olivo teaches that our emotions have value for alerting us to situations that might be dangerous, she also reminds us that we are the ones ultimately in charge of how we respond. Olivo gives the reader a practical method for identifying the emotions and then categorizing them into one of what she calls the Big Eight. After describing the warning about violated values and boundaries that the emotions might be giving, she provides three strategies for taking charge of your emotions by engaging in change.
Grounded in both the best of brain science and reliable strategies for personal growth and change, Olivo's roadmap provides a sure path to managing our emotions rather than being managed by them. The exercises are engaging and user-friendly and, as promised, help us transform yet another corner of our lives.
A Good Read!
Wise Mind Living: Master Your Emotions, Transform Your Life
By
Erin Olivo, Ph.D.
Sounds True: Boulder, CO (2014)